We have something in common with you: we expect high quality. This means that the qualifications of our practice team are very important. We are a team with very different specialties but a common objective:
We want you to feel relaxed with us and we want you to receive the best possible treatment.
Dr. med. dent. H. Hakimi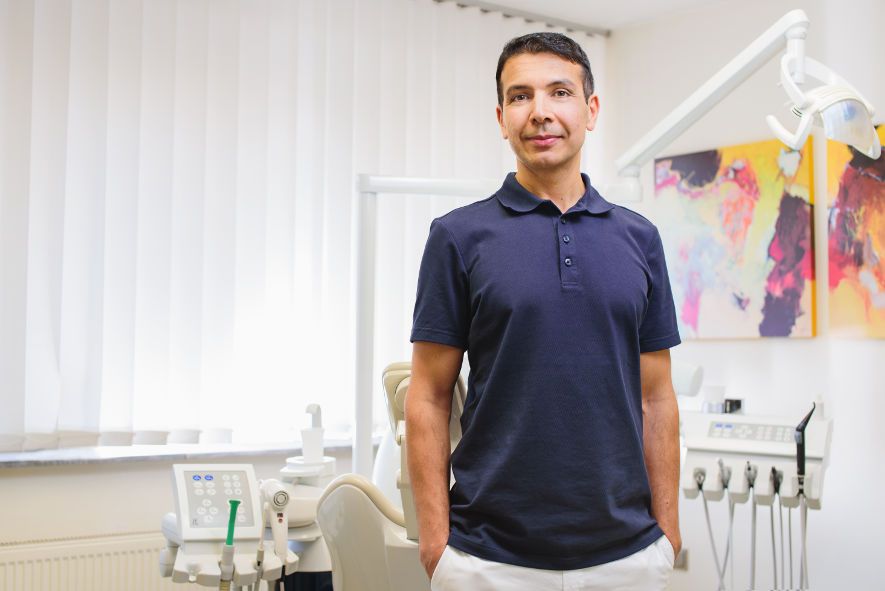 Fortbildung
Implantologie
Parodontologie
Ästhetische Zahnheilkunde
Wurzelkanalbehandlungen
Berufliche Stationen
Dissertation in der parodontologischen Session der ZMK in Mainz, Abteilung Zahnerhaltung und Parodontologie
Assistenzzeit in mehreren Praxen im Rhein-Main-Gebiet
2006 – 2007
Zahnarzt in Coalville, UK
2007 – 08
Partner in Gemeinschaftspraxis Fisher and Associates Midlands, UK
2008 – 2011
Zahnarzt in Mansfield, UK
2011 – 2012
Zahnarzt in Praxisgemeinschaft Dr. Omar Hakimi und Dr. Sabine-Mueller-Hakimi in Offenbach
2012 – 2016
Partner in der Gemeinschaftspraxis Dr. Hakimi, Dr. Anastasiu
2017 – heute
Ausbildung
Implantology Continuum Columbia University, New York, Prof. Tarnow, Prof. Cho, Prof. Fine
2012 – 2013
Fortbildung in der ästhetischen Zahnheilkunde an der Columbia University in New York
2011 – 2012
Implantology, Periodontology Continuum Eastman Dental Institute, School of Dentistry, University of Manchester
2010 – 2012
Weiterbildungskurse in Endodontologie, Infektionskontrolle, Praxismanagement, Parodontologie in Eastman Dental Institute London, Universität Birmingham
2008 – 2010
Mitglied des Implantologieklubs der Columbia Universität, Teilnahme am Implantolgie und Parodontologie Programm
2012
Abitur in Groß-Gerau
Johannes Gutenberg-Universität Mainz, Studium Zahnheilkunde
Johannes Gutenberg-Universität Mainz, Promotion zum Dr. med. dent.
Mitgliedscahften in beruflichen / fachlichen Vereinigungen
Deutsche Gesellscahft für Zahn-, Mund- und Kieferheilkunde (DGZMK)
American Dental Association (ADA)
American Academy of Implant Dentistry (AAID)
Deutsche Gesellscahft für Implantologie (DGI)
The American Accademy of Periodontology (AAP)
Hobbies
Joggen, Vollyball, Ski-fahren
Lesen, Musik, Reisen
Studium der Fachliteratur der Zahnheilkunde
Sprachen
Deutsch
English
Persisch / Dari
Französisch